Commercial Lock Replacement in West Chester, OH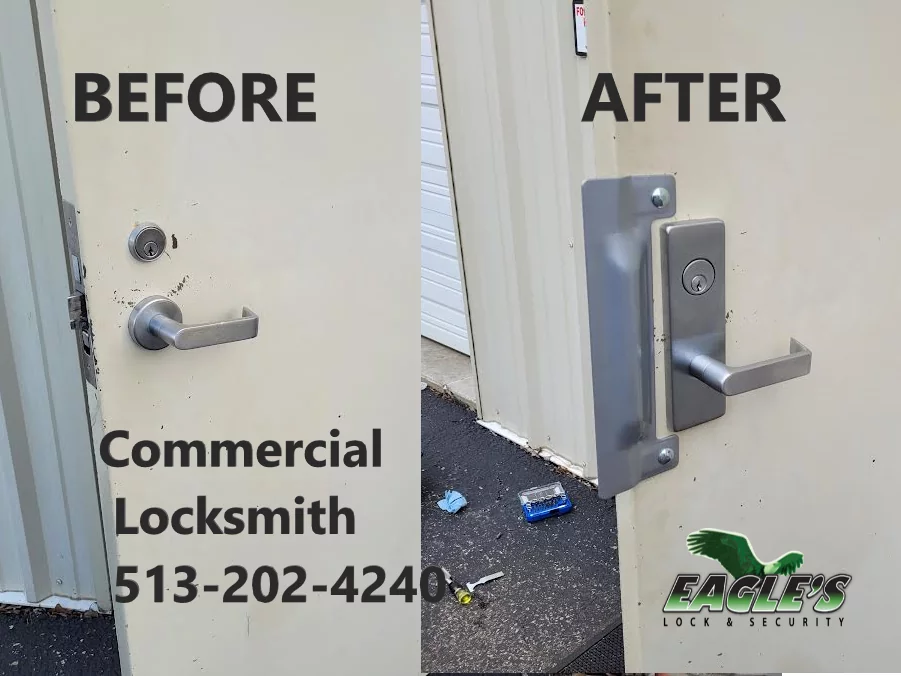 West Chester, OH is a suburb located north of Cincinnati. There are not too many contractors for businesses in the area and people call to get service from Cincinnati, OH. However, not everyone can provide a commercial lock replacement in West Chester, OH. In this blog post, Eagle's Locksmith Cincinnati will share some tips on how to find the best commercial locksmith services in the West Chester, Ohio  45069 area.
Commercial Lock Replacement in West Chester, OH 45069
There are many types of commercial locks and industrial locksmith services in Cincinnati, Ohio. As a result, it could be very difficult to choose the lock that will serve your security goals. It is recommended to find a commercial lock replacement near West Chester, OH that will service your particular lock system. Commercial locks can be found on metal, steel and glass aluminum doors. It's also smart to rekey all of the locks on the same key and get a keypad lock as well for employees entrance.
Emergency Locksmiths in West Chester, OH
Most business owners are closing after hours and open early in the morning sometimes before dawn. When it comes to commercial lock repair or replacement after hours, it's always good to prepare with an emergency locksmith phone number. It is important to maintain locks on a weekly basis to make sure nothing is broken. Some folks rather wait and save money, but when the door won't lock then it's definitely time for repair.
Mobile Commercial Locksmith Services Near West Chester, Ohio
The benefit of contacting a mobile commercial locksmith services near West Chester, Ohio is that the whole service is provided on site. A mobile locksmith comes to a business location so the business owner shouldn't be worried about dealing with the lock. No need to take the locks off the door and bring it to a local shop, a mobile commercial lock repair is a great idea. Especially when commercial business owners want to continue running their business without any delays.