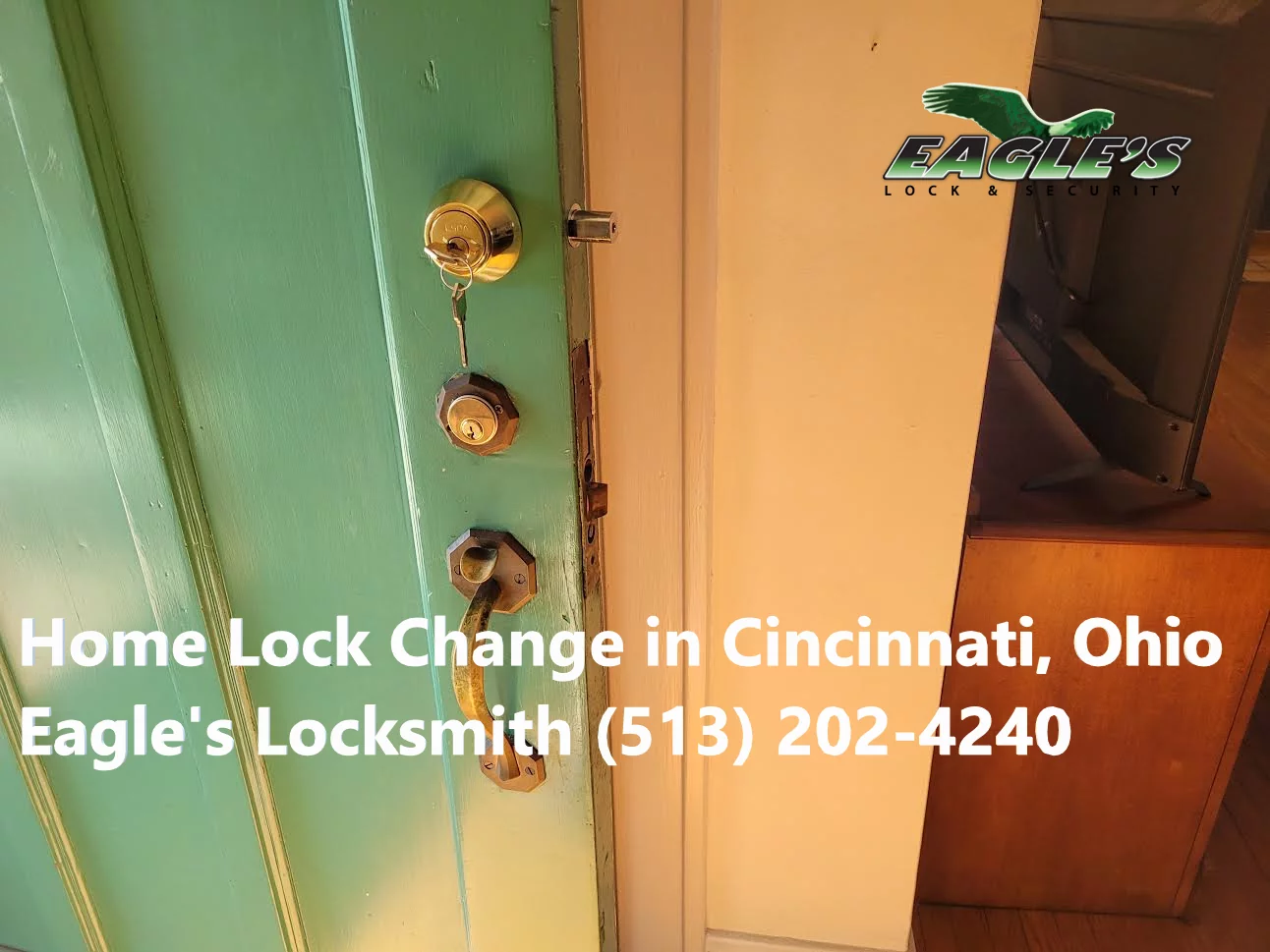 Whether you are a homeowner or managing an apartment complex, we all need a home lock change. There are a few ways to change a lock and it all depends on the lock system you currently have. In some cases, people want to add an additional lock for extra security. However, not all home door locks will fit in for some doors and your local Cincinnati locksmiths may help. Eagle's Locksmith Cincinnati will share some great tips for different types of locks and what may be a better solution for you.
Home Lock Change in Cincinnati, Ohio
If you just moved to the Tri state region and are looking for a home lock change in Cincinnati, Ohio, there is a large list. However, be aware who you choose and make sure they know what they are doing before moving forward. Common residential locks are the easiest to replace and most people change locks by themselves. As a result, you can save time and money as long as you are sure how to replace your home door locks. Some locks can be tricky, since the dimension might be different than the previous lock you had. So make sure to get the exact same type of lock in order to complete the installation properly.
Type Of Home Door Locks
The common locks for residential are door knob locks and deadbolt locks. But some home owners have a mortise lock set that needs more attention as far as operating the locks. The most common lock brands for home are Kwikset and Schlage but they are less common like Yale brand and Emtek. The highest quality that Eagle's Locksmith Cincinnati recommends you is Baldwin. This type of lock really lasts longer and also the company gives you a lifetime warranty, which is great. Now, it does mean the less expensive lock won't work for you, it's just another option for you to know.
Home Lock Installation And Rekeying Locks
Home lock installation and rekeying locks are usually a combination when you get a locksmith service. Most of our customers would like the idea of having a master key to work on all door locks. If you choose to install a lock on your own, make sure it's properly installed, otherwise you end up calling a locksmith and spend more $$ . If you just moved into a new house and your locks are in good condition, then it's better just to rekey the locks. Rekeying means that you use the existing hardware but using a different key, so whoever has the previous keys won't be able to access. If you still need assistance with rekeying locks, change locks or any other home locksmith services in Cincinnati Ohio, Contact Us. Eagle's Locksmith residential team will be happy to assist you at any time.