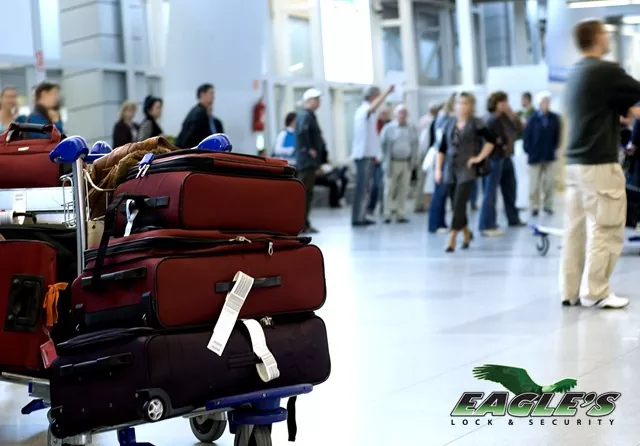 When you're heading out on a summer vacation, it's important to remain vigilant in keeping watch of your luggage. Not only is theft common in hotels, it is in airports as well. In this blog entry we'll discuss five fantastic strategies to live by to make sure that your luggage remains safely at your destination with you.
Carry-On Luggage
Never let your bags out of your sight
While you're in the airport, make sure to keep your bags in sight while you are checking in, on the security line, or browsing inside stores. If you're going to be sleeping on the flight, make sure to periodically check (or at least stay aware) of any potential thieves snooping through the overhead bins. It's best to bring bags that have double zippers at each entry point that you can additionally secure with a combination lock.  Split key rings positioned attached to the zipper pulls are also a deterrent for any potential burglars. Another fantastic strategy (especially if you're going to want to sleep on the flight) is to make sure to turn the bag upside down in the overhead bins so that the zippers face towards the floor.
Stay alert on the security line
While your bag is going through the Xray machine, make sure to watch it go through and come out without being rifled through. Make sure to pick up your luggage right away; don't leave it sitting there on the conveyor belt while you put your stuff back into your pockets.
Get on the Plane Early
This way you can make sure that you have ample room to securely store your luggage in the overhead bins. If the bins are filled by the time you board, your bags will be sent to the gate check- meaning you will have to retrieve them before the flight.
Checked Bags
Don't bring your ultra-pricey luggage.
Leave designer luggage at home; these bags can be easily spotted and targeted by thieves; however they definitely won't be searching around for a normal, unremarkable luggage. Keep in mind that there are high quality luggage makers who make basic looking – yet highly functional – luggage that won't stand out.
Don't bring precious items with you
If you can, don't bring jewelry, heirlooms, or very rare and expensive electronic equipment. Due to flight regulations, airport security workers need to have access to unlock any bag in order to check them according to security protocol. Some locks are available that can be used in airports, but they aren't the most foolproof technology. Due to this fact, it's best to avoid packing expensive equipment in your checked luggage.
Consider Hard Luggage
I swear by these functional rolling suitcases, which are much less susceptible to being cut open with a razor and pilfered through – unlike the usual rolling suitcases.