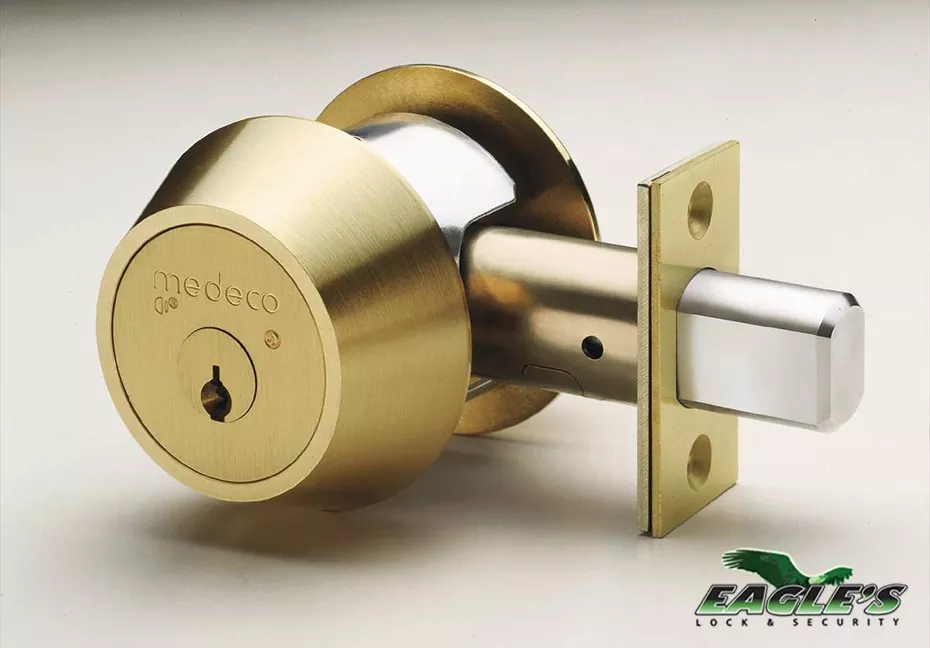 There's a myriad of different forms of the classic deadbolt lock that helps to provide unparalleled security levels. So your residential or commercial location can be a safe and secure place. In this blog entry, the lock installation and lock repair experts at Eagle's Locksmith will go into detail. Regarding the different types of deadbolt locks that you can utilize to protect your business.
Types Of Deadbolt Locks – Single Cylinder
This common type of deadbolt is attached to the interior of the door where it utilizes a twist knob. It also has a key cylinder positioned on the exterior of the door.
Double Cylinder Deadbolt
This internally attached deadbolt does not have a twist knob, but does have a key cylinder on both sides. You will require a key to open the door from both the inside and outside of the door. It will provides the advantage of security protection in the event of a burglar breaking through glass on the side of the door. This deadbolt has, however, been criticised for the way that affects fire safety.
Keyless Deadbolts
Attached to the interior of the door, this lock has a keypad where a self determined pin code is punched in for access. So they allow for the operation of the door without having a physical key. And also for full programming capabilities for changing codes at will.
Digital Deadbolts
Similar to a keyless deadbolt, this lock utilizes a pin code for operation. But runs on electric current or batteries, rather than being fully mechanical.
Rim Deadbolts
This lock is attached with bolts to the interior of the door, and locks automatically each time the door is closed. This will give you peace of mind for those who often forget to lock their doors.
Vertical Deadbolts
Also attached with bolts to the interior of the door, this lock is attached at the door's top. So eliminating the risk of a burglar trying to pry the door open using a crowbar or other prying tool. And which is a risk with horizontally positioned deadbolts. They provide strong security, but are more physically large than other locks.
Mortise Deadbolt
This classic style of keyed lock is installed in a cut out recessed area in the side of the door. That will prevent easy access for potential tampering. It's physically very durable, but due to the necessities of its installation, can weaken the physical infrastructure of the door itself. Due to the boring installment technique, the mortise lock consider as a high level hardware.