Springdale, OH Commercial Locksmiths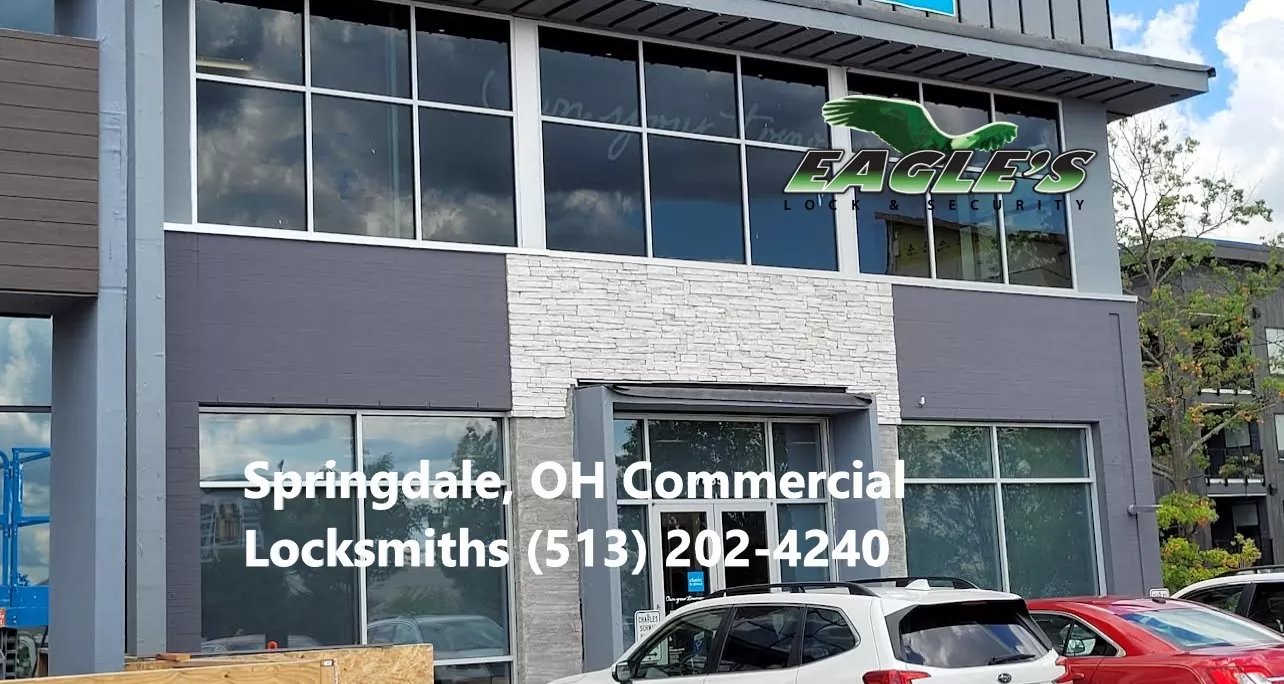 Springdale, OH Commercial Locksmiths – Safeguarding Your Business
In the vibrant city of Springdale, Ohio businesses of all sizes and industries thrive on innovation, and a commitment to excellence. So, as business owners focus on growth and success, ensuring the safety and security of their establishments becomes paramount. Furthermore, this is where Springdale commercial locksmiths step in as crucial partners in safeguarding businesses from potential threats. In this blog, Eagle's Locksmith Cincinnati will explore the essential role of commercial locksmiths in Springdale, Ohio. In addition, learn how the precision contribute to the protection of businesses in this dynamic community.
The Significance of Commercial Locksmiths in Springdale
Springdale is a vibrant city with a diverse range of businesses, from retail stores and restaurants to corporate offices and manufacturing facilities. So, with a bustling commercial landscape, the need for robust security measures becomes a top priority. Furthermore, commercial locksmiths in Springdale play a pivotal role in maintaining the security and safety of businesses. Also, the goal is to provide expert services tailored to the unique needs of commercial establishments.
Services Offered by Springdale Commercial Locksmiths
Commercial Lock Installation: Commercial locksmiths are well-versed in installing a wide variety of locks, including high-security deadbolts, electronic access control systems, keyless entry systems, and master key systems. They assess the specific security requirements of each business and recommend appropriate locking solutions to enhance protection.
Lock Repair and Maintenance: Over time, commercial locks may experience wear and tear due to constant use. Springdale commercial locksmiths offer repair and maintenance services to ensure that locks function optimally. Regular maintenance helps prevent potential malfunctions and extends the lifespan of locks.
Access Control Systems: Advanced access control systems are becoming increasingly popular in commercial settings. These systems use electronic key cards, biometric readers, or keyless entry options to regulate access to different areas within a business. Commercial locksmiths in Springdale can install, configure, and maintain access control systems tailored to the unique needs of each business.
Lock Rekeying: Rekeying is a cost-effective way to change the keying system of existing locks without replacing the entire lock hardware. This is particularly useful when a business changes ownership or when keys have been lost or stolen. Commercial locksmiths can efficiently rekey locks to ensure security.
Emergency Lockout Services: Lockouts can happen at any time and can be highly disruptive to business operations. Springdale commercial locksmiths offer emergency lockout services, ensuring that businesses can quickly regain access to their premises without unnecessary delays.
The Expertise and Precision of Springdale Commercial Locksmith
Commercial locksmiths in Springdale possess specialized expertise and precision that sets them apart from general locksmith services. So, they understand the unique security challenges faced by businesses and tailor their solutions accordingly. Above all, their skills and knowledge in commercial locking systems enable them to handle various types of locks. So, from traditional mechanical locks to cutting-edge electronic security systems, they do it all.
In addition, precision is crucial in the work of commercial locksmiths, as any errors could compromise the security of a business. Springdale commercial locksmiths take great care in their work, ensuring that each lock installation, repair, or rekeying is executed with precision and attention to detail.
Choosing the Right Locksmith For Your Business
Selecting the right locksmith for your business in Springdale is essential for ensuring quality service and long-term security. When choosing a commercial locksmith, consider the following factors:
Experience: Look for a locksmith with a proven track record of serving businesses in Springdale. Experienced locksmiths are well-equipped to handle various commercial security needs.
Licenses and Certifications: Verify that the locksmith is licensed and certified to ensure they meet industry standards and best practices.
Customer Reviews: Check online reviews and testimonials from previous customers to gauge the locksmith's reputation and level of customer satisfaction.
Emergency Services: Ensure that the locksmith offers 24/7 emergency services, as lock-related emergencies can occur at any time.
Conclusion
In conclusion, Springdale, OH commercial locksmiths play a vital role in safeguarding businesses and their assets. Their expertise in commercial locking systems, precision in their work, and comprehensive range of services contribute to the security and success of businesses in this dynamic community. As business owners in Springdale prioritize growth and prosperity, partnering with a reputable and skilled commercial locksmith ensures that their establishments remain protected from potential threats, allowing them to focus on achieving their business goals with confidence.