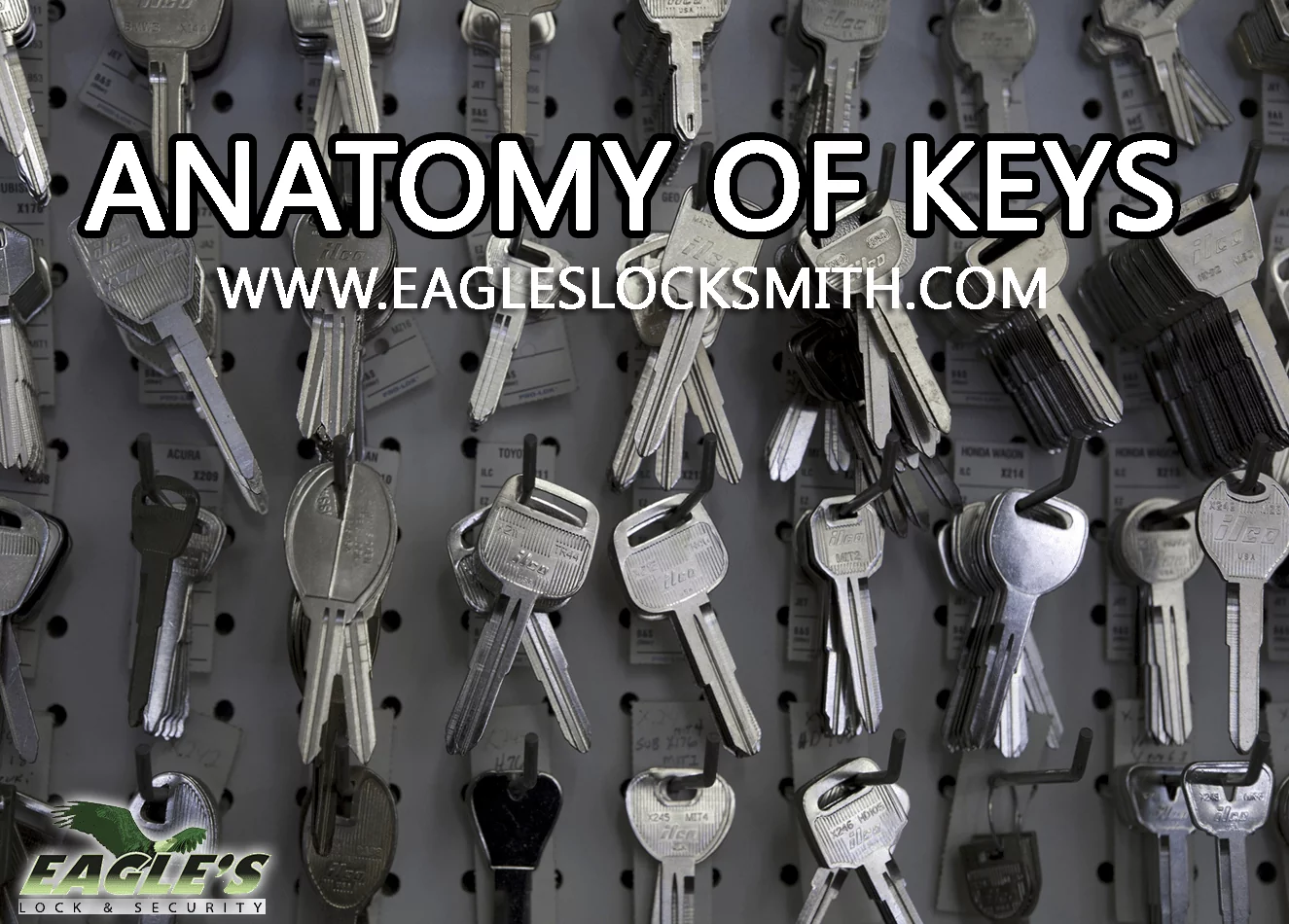 While the key is an everyday object with a long history of human use, it operates with a precise design that often isn't completely understood by the everyday person, or ever really seen. While being uniform – in the sense that it's usually analog – not digital, and reprogrammable – a key's usability relies on it being physically intact, with no damage or warping. It can help to understand the structure of keys in order to more quickly assess if a key is broken, or to determine the best key for your household or business. In this blog entry, Eagle's Locksmith Cincinnati give some detail as to the different elements of key structure, and their variances key by key.
Bow or Head
This area is called the key head, located at the cop of the key. The shape of the bow or head varies uniquely depending on the type of design or lock brand you're working with. Almost all keys have a small hole in the bow or head for connection with key rings.
Grooves
The key's grooves are made to fit within certain cylinder spaces within the structure of the lock. The specific variances in the grooves/cylinder spaces helps distinguish a lock and key set from another, and helps you choose the specific right type of key blank for duplication. As the key moves into the lock, the grooves on the blade line up with the wards, the empty spaces in the keyway, allowing or not allowing entrance into the cylinder. Then the pointed teeth and notches on the blade called bittings let the inner pins or wafers in a lock to move until they align inside the cylinder, allowing it to freely rotate inside the lock which opens it.
Shoulder stop
This integral part of a key's design helps regulate exactly how far the key blade enters into the lock – and has the additional use of bolstering the key's alignment in the key-making cutting process.
Blade
This area refers to the length of the key from the shoulder stop to the tip.
Tip
This area refers to the very bottom of the key, which can help align a key in situations where it has no shoulder stop.