Simple Guidelines For Choosing A New Lock For Your Gate
Securing your home or property should not begin at your front door. Eagle's Locksmith Cincinnati encourage you to make sure that you secure your outdoor area as well. If you have a perimeter fence and gate, the type of lock that you choose is an important consideration. There are different types and styles of gate locks available and you can get exactly what you need for your home.
When shopping for a gate lock, you should make your choice based on the type of gate you have, your budget and your personal taste. You should also bear in mind how secure or otherwise your neighborhood is. Following are some tips that will help you to choose a gate lock.
• Choosing a spring latch
To gain easy access from inside and outside, while still ensuring that the gate locks securely every time, you should consider installing a spring latch. A spring latch comes with a coiled spring and when the latch is drawn back and released, it forces the bolt or latch home, securely locking the gate. While it might not offer the best security, a spring latch is easy to use and it ensures the gate closes easily.
• Choosing a slide bolt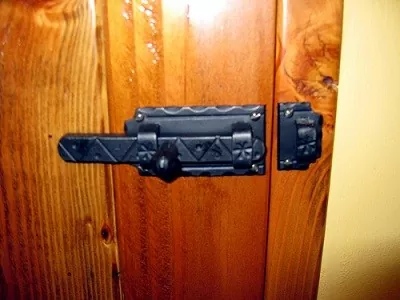 To get a strong latch for the gate that is only accessible from inside, you can get a slide bolt. This bolt also offers you the chance to lock with a padlock, further enhancing security. A slide bolt uses a simple mechanism and it is operated by sliding the bolt that is attached to the gate through a bracket that is installed on the gatepost. If you choose this type of bolt, make sure that you invest in a good padlock.
• Installing a thumb latch
If you want something more ornamental to adorn your gate, a thumb latch is what you need. This gate lock is easy to operate from both inside and outside. Gate thumb latches come in different designs and they are mainly installed on wooden gates. The operation mechanism is simple and all you need to do is to press the small latch with your thumb to raise a lever that opens the gate. Releasing the latch lowers the lever to close the gate securely.
• Choosing lockable latches
To increase the level of security, you should choose a lockable latch for your gate. A lockable latch requires a key for the gate to be opened from the outside. A regular latch opens the gate from the inside and the latch locks automatically on closing the gate. The best thing about this type of lock is that it can be used on any type of gate whether it is wood or metal.
When you decide to install or change the lock on your gate, make sure that you get professional services. An expert Cincinnati locksmith will offer the best advice on the locks available while also ensuring correct installation of the lock. If you are looking for maximum security, consider installing an electric gate lock. These types of locks ensure you have complete control and they can be operated using a digital keypad, a remote control or a swipe card.