Mobile Locksmith Service in Cincinnati, OH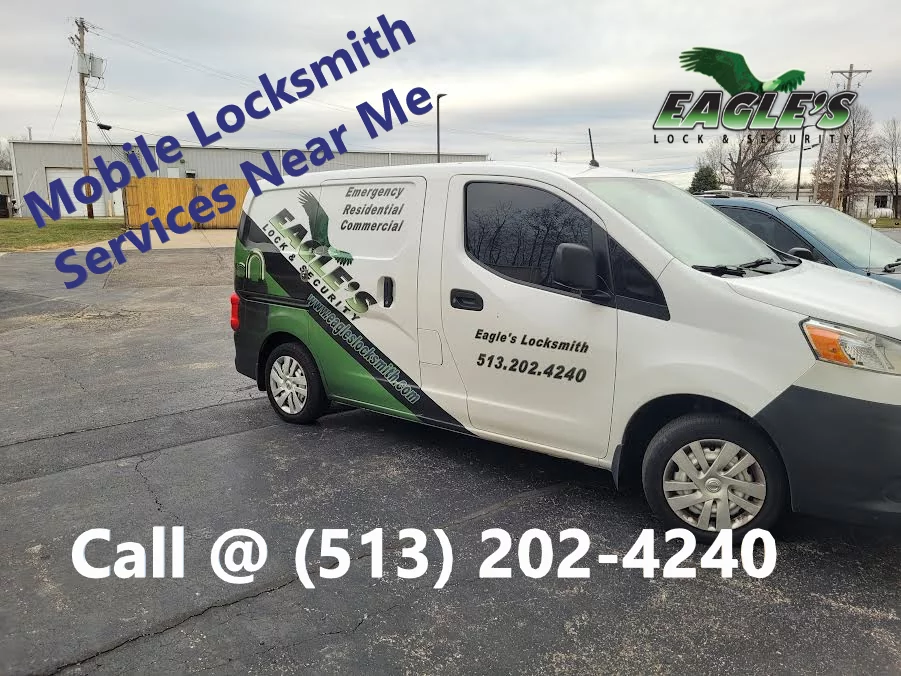 mobile locksmith service in Cincinnati, OH is a great option for anyone with a busy schedule. However, not all locksmiths' companies are providing all of your locksmith needs. As a result, you must ask if a certain mobile locksmith provides only emergency, residential locks or commercial locksmith assistance. Eagle's Locksmith Cincinnati will share ideas on how to use your local mobile locksmith before he arrives at your location.
Emergency Mobile Locksmith Service in Cincinnati, OH
So, every now and then, we all get locked out of our home, and business. An emergency mobile locksmith service in Cincinnati, OH can assist you with most lockout situations. Now here's the thing, some locks are trickier than others when it comes to a lockout service, especially commercial locks. So, the tech may decide to drill the lock cylinder to get you in faster. The best benefit of calling an emergency mobile locksmith is that you wait for them on site and don't need to struggle with what to do by yourself. If you trust your locksmith to show up on time, you should be fine.
Mobile Locksmith Near Me
So, a mobile locksmith near me can be found online easily. However, you need to make sure where the tech comes from, because they may seem close by online but 50 minutes away. The benefit of using your local locksmith near me especially in Cincinnati, OH is that the service fees shouldn't be high. Any locksmith should charge between $85 to $175 depending on the time of the day and distance. This price may change considering you may need a new lock replacement.
Choose The Right Mobile Lock Change Company
A mobile lock change company is a locksmith provider that provide the following services:
Residential Home Lock Change
Commercial Lock Repair
Rekeying Locks
New Lock Installation
Lock Replacement for Business
Industrial Lock Change
These are the main locksmith services your local locksmith can assist you with. So, in order to choose the right mobile lock change company, you must ask questions and send them a picture. A picture worth one thousand words, since once your locksmith gets it, that will help him to understand better. He will know if he can do it and how much it might cost, and you won't have any surprises and delays.