Locksmith For House Door Lock With Password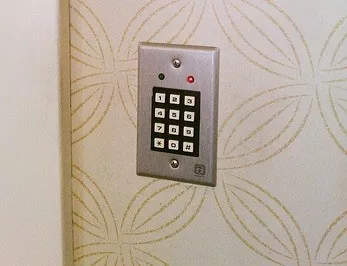 Keypads are increasingly popular and appreciated these days. They are perfect for both residential and commercial properties. And also they bring a plethora of benefits and features. Well in time to come, keypads can actually replace the traditional door lock in the near future. So they can be installed by every professional company. Learn how a Locksmith For House Door Lock With Password can assist you with the proper installation.  This blog post was prepared by Eagle's Locksmith Cincinnati.
Keypad locks can be opened with certain passwords that can be changed anytime
Basically, all that you have to do in order to enter your house is to input a certain code and voilà, the door is open. This type of code can be remembered easily and you can also change it, if needed. Furthermore, adding new user codes or delete them is easier then you think. The same feature is not possible when it comes to conventional door locks.
Locksmith For House Door Lock With Password – Keypad locks can be installed Easily
Another big advantage provided by keypad locks is that they can be installed very easily by a professional locksmith. So in order to perform the lock installation process, homeowners don't require advanced tools or years of experience.
You can get rid of the burden of carrying keys forever
Carrying a key is not something extremely complicated or stressful, but if you lose it, you are in a lot of trouble. Luckily, if you install a keypad lock on your front entrance door, you won't have to worry about carrying keys anymore. So these locks can be opened only using a password and they are much more convenient in the long run. You will also have more room in your pockets.
Keypad locks can deter thieves and burglars
One of the biggest concerns of every homeowner is having an unannounced visit from a malevolent person like a thief. Also, don't rely on your kid to save the day like you have seen in the Home Alone movies. Fortunately, keypad locks are much more durable and resistant to wear and tear and as a result, they are harder to damage or break. Your house will be protected for years and in most cases, thieves and burglars are discouraged from attacking properties. So houses with a strong defense system will be a lot more protected.
Keypad locks won't ruin the design of your property
These products are designed to be both practical and aesthetically pleasing. They come in various designs and have different shapes, sizes. However, they will make your property look more modern and much more elegant. Additionally, they can also be installed on any type of door in your house.
Keypad locks can be battery-powered or completely mechanical
You can choose either of those, depending on your needs and preferences. For example, battery-powered keypad locks are the most appreciated and popular. Also, the battery will last for a long period of time. On the other hand, mechanical keypad locks have their supporters too.
If you want to know more about keypad locks or you want them installed in your property as soon as possible, make sure that you call us and our professional and experienced Cincinnati locksmith will come to your house and improve its security system for a fair price. Call Eagle's Locksmith Cincinnati for any help 24 hours a day 513-202-4240.