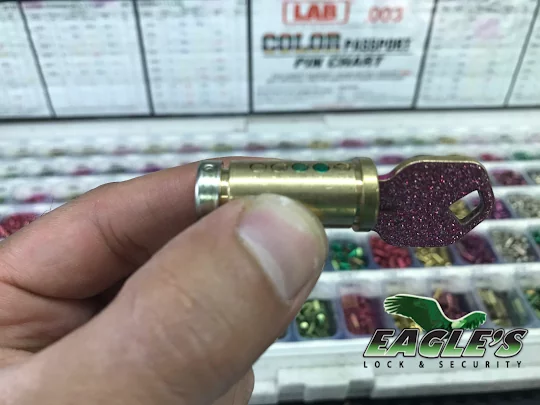 Before you search to find locks rekeyed near me locksmiths company, you must know a few factors. Many people want to get their locks rekeyed when moving to a new house or business. Eagle's Locksmith Cincinnati is sharing a few lock rekeying options and preparing you what to expect during the service.
Cincinnati Locks Rekeyed Near Me
So you're moving to your new property and very excited. Now you think to rekey your locks and invest as little as possible. Well, if you keep your current locks and have them all rekeyed, you'll definitely save money. Finding Cincinnati locks rekeyed near me services can also save you on your budget. By calling a locksmith near me, you basically choose the closest locksmiths company to your area. By doing so, you won't pay a whole lot for a trip charge. Just make sure you contact the right guys for the job, read reviews and ask some questions before hiring.
What is A Lock Rekeying Service?
Just like it sounds! A lock rekeying service is when a locksmith uses the same hardware and cuts new keys to the existing cylinder. After that the locksmith will match the pins by the key code to your current cylinder. Most people would like to rekey all the locks on the same key. In order to make it happen, your locks must be the same brand. If they're not the same brand, then your locksmith can offer to replace the lock with the same brand. As long as your locks are in a good condition and of the same brand, the process is easy to rekey them all. Then you'll have the same key for all instead of carrying different keys in your pocket.
Expect A Lock Change During A Rekey Service
So why should you expect a lock change during a rekey service? In some cases, you could have a broken piece in the lock. Even though the lock works fine, once a locksmith takes everything apart to rekey, then it's hard to put it back together. Then you'll have to change the lock and rekey as well. Other cases, you may find some issues even before, like spinning key in the cylinder or the inside turn piece won't work. You must know that a lock rekey service is combined with strike plate adjustment in case the latch or driving bolt won't attract with the frame. So there are a few things to pay attention to before you move in. Here, at Eagle's Locksmith Cincinnati we check each door lock from both sides to eliminate the condition of the hardware. It's Always recommended!