Commercial Lock Repair Near Sharonville Ohio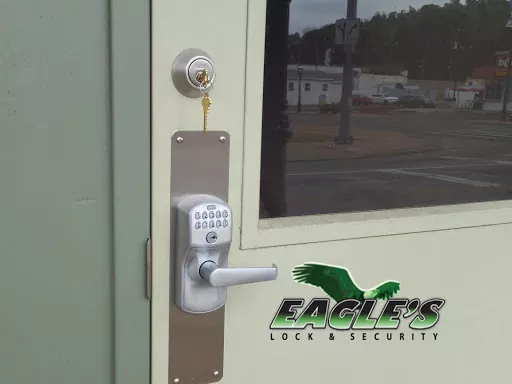 There are a lot of businesses in Sharonville that use their locks on a daily basis. When you are looking for commercial lock repair near Sharonville Ohio, Eagle's Locksmith is only a phone call away. In order to protect your business investment, you must secure your facility properly. In this blog, Eagle's Locksmith Cincinnati will mention a few ways to maintain your locks better and contact your locksmith nearby for service, if needed.
Find Commercial Lock Repair Near Sharonville Ohio
These days, most people will start looking online for locksmith near me, especially if they don't familiar with locksmiths companies. In order to find commercial lock repair near Sharonville, you need to make sure they ca provide you the service you want to have. Believe it or not, but some locksmith provide lock installation and won't supply the hardware. So in that case you must ask on the phone and sent some pictures to make sure they can help. However, some locks cannot be repaired and must be replaced, especially old hardware.
Industrial Lock Repair Services in Sharonville OH
Many factories always need an industrial locksmith that provides heavy duty locks. If you need an industrial lock repair services in Sharonville OH, you can definitely find Eagle's Locksmith near your location. When it comes to industrial locks, you need to be careful, because the type of hardware that secure the building. Installation of an industrial lock can be very tricky sometimes. That is because that most facilities must follow the fire department codes in order to get a permit. So it is extremely important to ask your local authorities about what type of locks they allow you to use. The most important part is to have smooth exit from your exterior doors without any issues, so keep that in mind.
Business Lock Rekeying Services Near Sharonville, OH
Every business owner would like to have some locks to match on the same key. In order to do so, we call it lock rekeying. A business lock rekeying services near Sharonville, OH can be easily find online. Eagle's Locksmith Cincinnati provide that service in the area for over 20 years now. Some locks are more difficult to rekey then others, but overall it must be the same brand of locks to match the same key. Most locksmiths in Sharonville Ohio can cut you extra keys on site. However, some keys cannot be duplicated at other places, like home depot or Lowe's. Rekeying a lock is basically the cheapest way to go if you want to same money, but not always. Sometime your locks may be jammed and you will end up calling a locksmith for your commercial lock replacement service.